What We Can Learn From the Rage-Appliers
For those who have been in a bubble these past weeks, Rage Applying has fast become the new career buzzword. Rage-Applying means applying to many jobs when you're fed up with your current one, channeling your frustrations into going after many more roles than you would under calmer circumstances. It's the equivalent of being on the rebound after a breakup.
So, what can we all learn from the rage appliers who've landed $30,000 raises in their agitated states?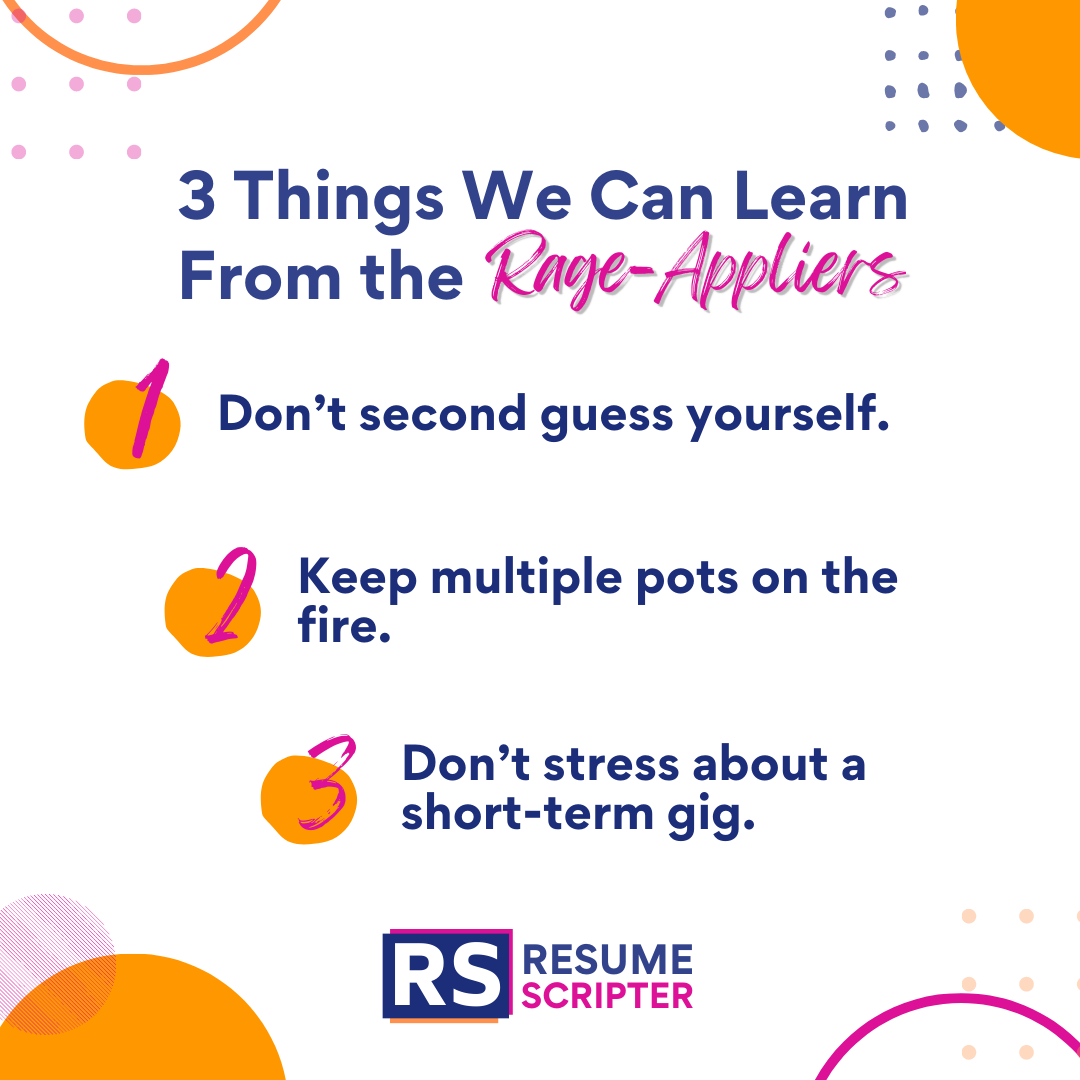 #1 Don't second guess yourself.
Most of us question our capabilities way more than warranted. We downplay our talents and get paralyzed by self-doubt. We question whether hirers will take us seriously or see our potential. The energy built up by rage-applying bypasses these overcautious tendencies, which can lead to landing roles that are actually challenging.
The lesson? Never discount your adaptability and potential to learn. It's what makes us human.
#2 Keep multiple pots on the fire.
I once worked with a client who got so hung up on one job posting at a time. He would spend weeks focused on that one application, neglecting to look for anything else. His job search lasted well over a year, and he ended up settling for a role that was a big step down out of desperation. Don't make the same mistakes. Aim for a combination of quality and quantity in your applications. Even if a job posting looks perfect, the culture may be off once you get through the initial interview. Apply to a broader range of roles you think you'll be into.
#3 Don't stress about a short-term gig.
Long gone are the days of jobs lasting 5+ years, let alone the 10+ tenures that our parents and grandparents experienced. While the sweet spot to maximize career growth seems to be 2-3 years in each role, you can get away with under one year's stints. The trick is how you frame them. If you find yourself struggling with a decision to leave a subpar role after less than one year, know that there are easy ways to shift the focus from short-term jobs and gaps. It's all about how you talk about them!
I like to elevate short-term work in the resume by adding details about the company the person was working for. I'll often omit months if the role spanned from one calendar year to the next (i.e., 2022 – 2023 instead of Nov. 2022 – Jan. 2023). You can also add italicized designations to the job title to explain the short duration. (Project Manager – Contract, or Human Resource Specialist – Interim). Above all, don't shy away from the value you brought in a shorter-term position, especially if the experience was your most recent role. The top third of your resume should be the most impressive since it's the most visible, so expand on what you were involved in as much as possible.



Andrea Gerson is a social worker, career coach and workforce technology founder. Over the past 15 years, she's crafted impactful resumes for over 7,500 clients – many of who have gotten hired at organizations like Google, Apple, and the U.N. She's partnered with dozens of non-profit workforce agencies to lead staff trainings on topics like job search strategies, interview preparation and navigating workplace conflict. Andrea brings a strengths-based, client-centered perspective, and her work is an extension of her commitment to addressing the opportunity gap.