How can we make sure that our clients are putting their most capable selves forward?
Most of us will change careers at least once in our lives. In fact, workers between ages 18-24 can expect to change careers (not just jobs) an average of 5.7 times, which is twice as many as previous generations.
As a career coach, I've worked with thousands of clients to prepare for major transitions. There's one critical mistake I almost always see:
Candidates think that they should list every job they've ever had to show how versatile they are. Unfortunately, this ends up muddling their message, which should be: I am perfectly qualified for this specific opportunity.
It can seem overwhelming to market yourself for a role in a new field. But there are a few simple ways to demonstrate to employers that you'd be qualified and capable for a position in a new field.
TL;DR: Emphasize the most relevant, recent, and impressive details of your past experience.
Q. How do I know what's relevant?
Imagine that you're looking to hire an electrical assistant for a project. Forget about state-specific licensing requirements for a moment. Would you hire someone whose resume emphasized their experience with hand tools like wrenches and drills? Or would you feel more confident if they referenced knowledge of wiring, lighting systems, circuit breakers, and building codes? Even if they just recently completed a course that covered these topics, you'd probably feel a lot more confident in the second person because they referenced relevant skills.
But what if this person's most recent role was as a Construction Assistant, where electrical work was only a small part of their job? This is where we can get creative. We can choose which parts of each job to showcase and expand on. For this person, we might frame their title as Construction & Electrical Assistant. We could expand on electrical-specific work they were involved in, to highlight those elements.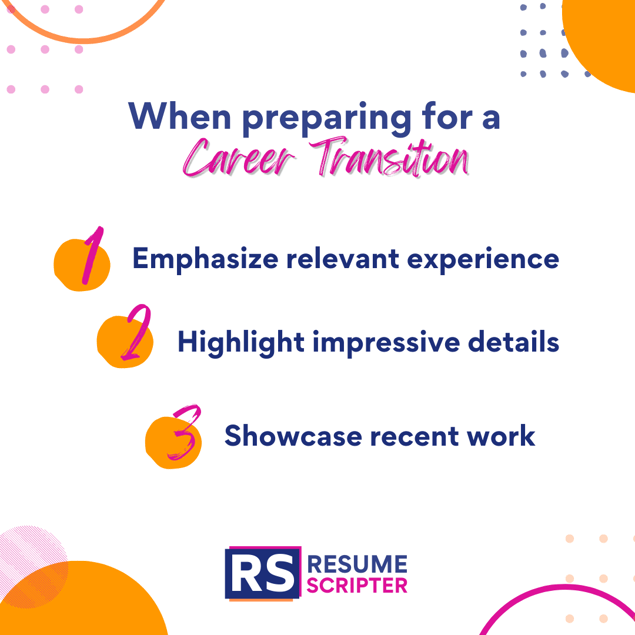 Q. What if none of my experience is transferable?

Consider someone who wants to move into an electrical role, but they don't have any formal experience. We'd want to bring something recent into their resume, such as a quick course or credential. This tactic formalizes their interest while bringing critical industry-focused language into their applications.
For instance, here's a 15-hour Basic Electrical course for only $14.99. While not an electrician license, it covers topics on electrical safety, voltages, transformers, and electrons. A course like this could be a low-commitment way to get exposure to a new field while adding in relevant keywords.
Q. What if my most impressive accomplishments were in a different industry?
Career-changers often make the mistake of scrapping impressive details of earlier experience that's not directly relevant to their target role. I see this a lot with clients who move from retail and food service roles. They think that their earlier skills won't translate to a more 'professional' field.
Instead, showcase the scope and impact of the work that they were involved in, especially when it involved impressive numbers and results. We also want to deemphasize the context or setting that they were working in.
Here's an example of a before resume bullet:
Provided exceptional customer support for popular apparel retailer generating $20 million in annual revenue, working with guests to select and purchase clothing and accessories.
And after we adapt it for a new field:
Worked directly with clients of leading national retail company generating over $20 million in annual revenue, providing tailored guidance to inform purchasing decisions.
In the second version, we omitted details about specific products, and we replaced retail-specific language with general terms. This makes the bullet relevant for sales, customer support, and acount management roles.
When targetting materials to a new field, don't throw the baby out with the bathwater. Don't dilute the experience and make the resume so targeted that the full range of skills and capabilities are lost. Instead of omitting experience, adapt it! The right role will use a combination of your knowledge and talents; the combination of your skillsets should be what sets you apart.
Exclusive for Blog Subscribers
If you'd like some guidance with resume writing, we just released an interactive new resource! Our Resume Revamp Workbook has 20+ pages of templates, activities, and resources.
Individual job-seekers can get $20 off using the code REVAMPMYREZ. Group licensing rates available for workforce organizations.

Andrea Gerson is a social worker, career coach and workforce technology founder. Over the past 15 years, she's crafted impactful resumes for over 7,500 clients – many of who have gotten hired at organizations like Google, Apple, and the U.N. She's partnered with dozens of non-profit workforce agencies to lead staff trainings on topics like job search strategies, interview preparation and navigating workplace conflict. Andrea brings a strengths-based, client-centered perspective, and her work is an extension of her commitment to addressing the opportunity gap.