3 Simple Tips to Nail Your Next Interview
Most of us walk into interviews feeling like we're walking on eggshells. We feel like we're at the mercy of any questions the interviewer throws at us.
So much stress goes into trying to answer questions correctly that it's hard to feel grounded in your strengths. And when you're on the defensive, it's hard to communicate your talents to the interviewer.

Does this sound familiar?
Interviewer: Have you ever managed people?
Response: Yes! I managed three people in my last role.
Instead, try flipping your approach.
Use the interview question as an opening to talk about your high-level talents.
Interviewer: Have you ever managed people?
Better Response: Yes! In my last role with a growing restaurant franchise, I was quickly promoted to a supervisory role. I oversaw a team of three and maintained 100% retention despite the challenges posed by the pandemic. I really pride myself on being a firm yet empathetic manager. I actually wish I had sought out supervisory responsibilities earlier in my career because developing people is something I really enjoy.
How can you craft interview responses like this?
Step 1: Get clear on your superpowers.
Before going into any interview, get clear on your strengths and what makes you unique. What sets you apart from other candidates? Make a list of past wins, superpowers, and accomplishments you want to showcase in your next interview.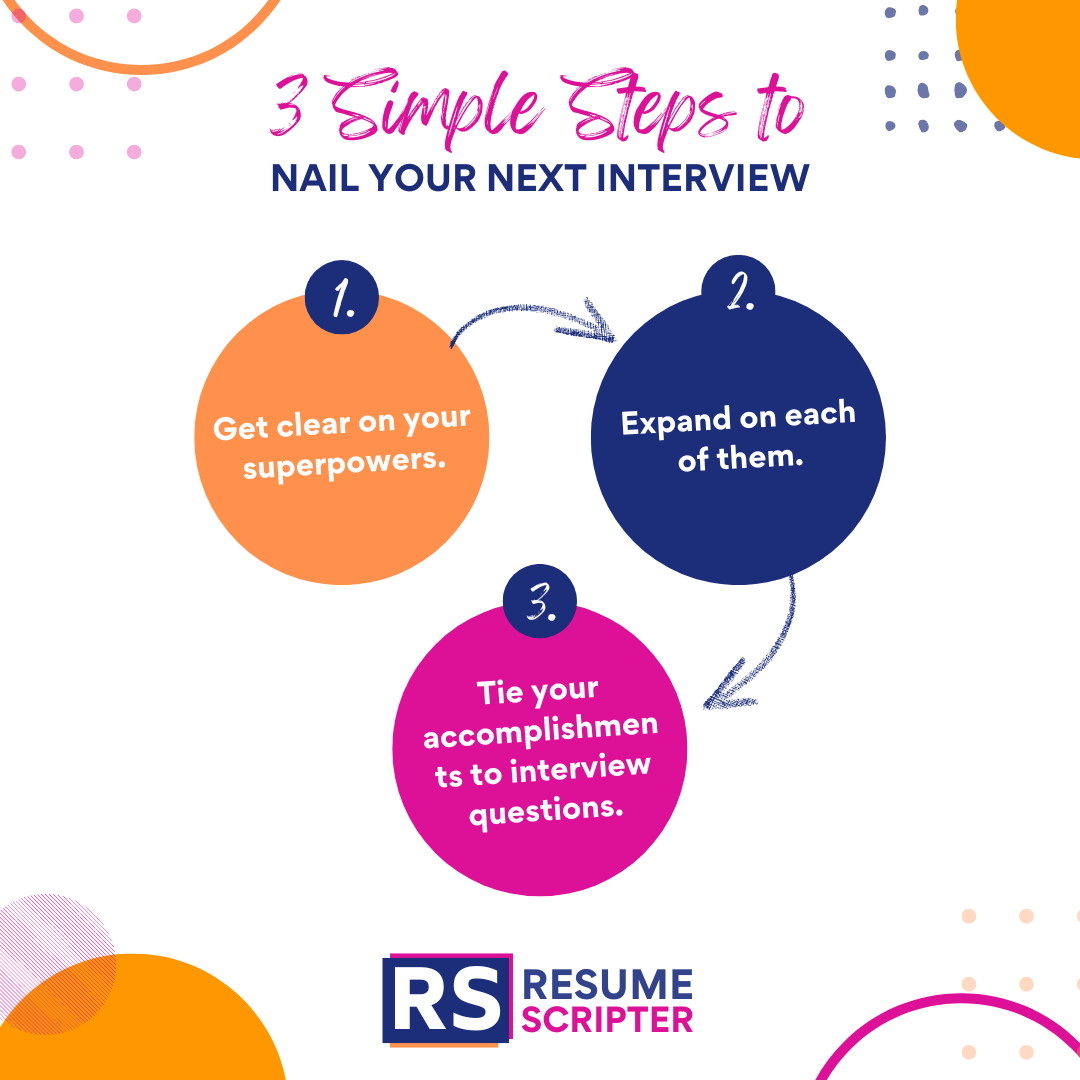 Step 2: Expand on each of them.
Once you've made a list of strengths and achievements, it's time to get detailed. At Resume Scripter, we use the SPARL framework as a guide to expand on the impressive elements of each person's experience. Bringing in these details into the conversation will make your interview responses more memorable.
Situation: The context/environment that the story took place in:
In my most recent role with a public school district serving 2,000 students...
Problem: Illustrate the challenge that you were faced with or the issue that was being addressed:
...we quickly had to shift our lessons to be virtual during the pandemic.
Action: Describe the specific tasks performed:
I worked evenings and weekends to create online resources for students.
Results: The outcomes that you helped to achieve – these can come from either solo or collaborative work:
We kept our attendance rates and test scores up during a period when most of our colleagues saw their students decline.
Learning: Reflect on what you learned from the experience:
While I wish our students never had to experience that, it made me feel hopeful, knowing that my dedication and energy helped them through it.
Step 3: Tie Your accomplishments to the questions
Once you've used the SPARL framework to expand on your accomplishments, you can easily turn these examples into interview-ready responses. Think about the different interview questions you could use it as a response for.
For example, the above answers could be used for these questions:
Was there ever a time at work when you helped to overcome a big challenge?
Do you have experience teaching in both in-person and virtual environments?
Why did you become a teacher?
The last step? Practice, practice, practice!
Do you need interview prep support?
We've got your covered! Our digital interview prep workbook will guide you through the process. In it, you'll find:
20+ pages of interview activities, templates and prompts.

Exercises to reconnect with your most marketable strengths.

Sample interview responses to model your answers after.

Guided prompts to craft your own SPARL stories.
It has tips and suggestions for handling questions like "Tell us about yourself" and "What questions do you have for us?"
As you prepare for interviews, remember to stay grounded in your strengths. Walk into the interview confident about your talents and accomplishments, and you'll leave the hirer with a crystal-clear picture of your capabilities and how you would benefit their organization.
Get $10 off our Interview Preparation Workbook as thanks for subscribing to our blog! Just enter the code INTERVIEW10 at checkout.
Get the Interview Prep Workbook

Andrea Gerson is a social worker, career coach and workforce technology founder. Over the past 15 years, she's crafted impactful resumes for over 7,500 clients – many of who have gotten hired at organizations like Google, Apple, and the U.N. She's partnered with dozens of non-profit workforce agencies to lead staff trainings on topics like job search strategies, interview preparation and navigating workplace conflict. Andrea brings a strengths-based, client-centered perspective, and her work is an extension of her commitment to addressing the opportunity gap.